Advertisements
Alzheimer's Disease: The number of Alzheimer's patients worldwide is more than 55 million and by 2030 this number can reach 78 million. Now scientists have claimed that Alzheimer's disease will be detected three and a half years before the blood test.
There are more than 55 million Alzheimer's patients worldwide, and by 2030 this number is expected to reach 78 million. Alzheimer's disease will now be detected three and a half years before blood tests are conducted, according to scientists.
Alzheimer's Disease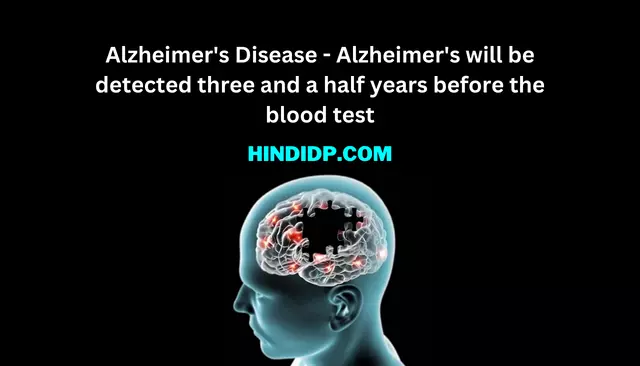 Alzheimer's Disease: According to a recent report by the World Health Organization (WHO), the number of Alzheimer's patients worldwide is more than 55 million and by 2030 this number may reach 78 million. To find out about this disease ahead of time, scientists have discovered a blood test, which can detect the disease about three and a half years before the initial stage. This result has been discovered by scientists associated with psychiatry and psychology at King's College London.
Advertisements
Currently, doctors rely on cognitive tests to determine whether a person has Alzheimer's. In addition, medical procedures such as brain imaging and lumbar puncture are used to detect changes in the brain due to disease. The brain cells of a patient suffering from Alzheimer's become loose. Its symptoms include loss of memory, and the ability to reason and make decisions. According to researchers, patients suffering from this disease go for examination when memory problems start. Although this disease has already affected the brain at least 10 to 20 years ago.
The formation of new brain cells is affected
According to research, compounds present in human blood can control the formation of new cells in the brain. This process is called neurogenesis. This process of neurogenesis takes place in an important part of the brain, which is called the hippocampus. This is the part of the brain that helps in remembering things. During the early stages of the disease, Alzheimer's affects the formation of new brain cells in the hippocampus. To understand the changes in the study, scientists took blood samples over several years from 56 people who had seen a decline in cognitive ability. Alzheimer's symptoms were seen in 36 out of 56 people involved in the study.
Many things came to know in the research
According to the researchers, many important things were found in the study of how blood was affecting the cells of the brain. In those people from whom blood samples were taken, there was a decrease in the growth of cells. Also, an increase in apoptotic cell death was observed. Cells are programmed to die by apoptotic cell death. The researchers hypothesized that people who developed Alzheimer's disease may have an early compensatory mechanism for neurodegeneration, the loss of brain cells.
Disclaimer: The information given here is based on home remedies and general information. Do take medical advice before adopting it. Hindi Dp does not confirm this.
Advertisements
Read Also
Share With Your Friends